A historic neighborhood in north central Phoenix.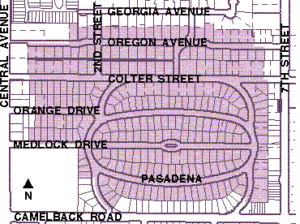 Windsor Square is a 260-home neighborhood, where homes date back more than 80 years. Established in 1929, and bordered by Central Avenue, 7
th
Street, Pasadena Avenue and Oregon Avenue, the area is noted for its curvy streets and charming homes. It is one of the oldest suburbs of Phoenix, created when the city's population was just 70,000 and the trolley line ended at Thomas Road. Today, it is recognized for its beautiful historic homes, friendly neighbors, urban vibe, great restaurants and proximity to the light rail.
Windsor Square Historic District, shown in magenta on the map, was added to the Phoenix Historic Property Register (PHPR) in 1996. Windsor Square Special Planning District, which extends beyond the borders of the Historic District, sits within Camelback Road, Missouri Avenue, Central Avenue and 7
th
Street. A Special Planning District is a neighborhood plan and zoning overlay district designed to help neighborhoods identify and implement programs and actions that will help conserve or revitalize their area. TheSpecial Planning District plan is intended to address neighborhood preservation issues such as property maintenance and upgrading of the neighborhood, development of vacant or underused lots, incompatible mixes of land uses, and the improvement and orderly development of the neighborhood.
The Board of Directors, which administers the business of the neighborhood, serves the entire Windsor Square Special Planning District.
The commercial neighbors make Windsor Square a food-lover's paradise with a multitude of restaurants only a block away, including
Postino
,
Joyride
,
The Windsor
, and
St Francis
- and many more just a few blocks away, including
Culinary Dropout
and
Southern Rail
. With sweet treats at
Churn
and
AZ Pops
, locally crafted beer at
SunUp Brewery
, and the exciting developments at
Uptown Plaza
, which will include
Shake Shack
and
Flower Child
, Windsor Square is a very special place indeed.
The school district is Madison.
Click here
to visit the Madison school district website.
Many houses use SRP's irrigation system to water their lawns.
Visit SRP's website
for more information.
The closest light rail stop is at Central and Camelback.