A History of Windsor Square Historic District
Karen Olson, a former resident of Orange Drive, wrote this history of the Windsor Square neighborhood, which accompanied the documentation submitted to the City of Phoenix Neighborhood Services Department, as part of the request for historic designation.
The Phoenix subdivision which would eventually become Windsor Square was first announced on Feb. 5, 1929, with a banner headline on the front page of the Phoenix Evening Gazette that read "Home Project to Involve Millions." Originally owned by Mrs. Margaret Barringer and E. J. Bennitt, it was purchased by the Owens-Dinmore Company for approximately $150,000. The property extended from Camelback Road to Colter Street and from Central Avenue to 7th Street, with the exclusion of the lot at Central and Camelback. Its location was touted for proximity to the Westward Ho Hotel and the "new" Arizona Biltmore as well as to Brophy College, "Arizona's newest educational institution."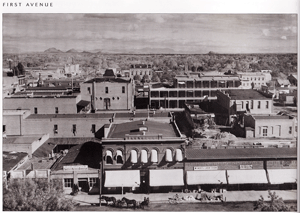 The owners of Owens-Dinmore, L.D. Owens and H.C. Dinmore, organized their real estate firm five months prior to purchasing the Bennitt property. After the purchase was announced, they quickly named the property and set the formal opening date of Feb. 17,1929; Holmquist and Maddock, a Phoenix engineering firm, and W. Lee Woolett of Albany, NY, were retained to design the subdivision. Also retained as a consultant was John R. Case of Case and Hughes in Los Angeles, a firm specializing in subdivisions. He said, "The Windsor Square community will stand out as one of the very finest home communities in the entire southwest, incorporating ideas which have proven highly successful in the finest select colonies in America today." Improvements were to include curbs, sidewalks, ornamental lights, landscaping and a high-pressure water system.
A Tudor-style sales office was constructed in record time, and more than 5,000 visitors attended the pre-opening inspection of 25 miniature model homes. The models were a product of Meidler Studios of Pasadena and were constructed under the supervision of architect Alfred Meidler, to represent the Spanish, English, Italian and Norman architecture projected for the subdivision. Sales manager Ardo Peterson announced that construction of 20 homes would soon follow.
Opening of the subdivision actually followed one week later, on Feb. 24, with a large balloon floating over the tract of 270 home sites. By the first week in March, five more models had been added to the display of miniatures, and developers announced that Lincoln Finance Company would build 12 homes. A May 4 Phoenix Evening Gazette ad announced that lots could be purchased for as low as $1,100, and a week later the Republican featured a drawing of the first residence, to be built for Mr. and Mrs. H. C. Dinmore. That first May also featured a home-building show with displays open day and night, along with the announcement that lots had been purchased by a prominent Arizona cowboy artist, a doctor, and the manager of the Country Club Estates.
While articles and large ads appeared weekly in both The Arizona Republican and The Phoenix Evening Gazette and the developers gave glowing progress reports, subtle signs of problems began to surface. Sales manager Ardo Peterson was replaced by S. E. Taylor, who announced a series of drawings to attract visitors and buyers, despite reporting sales of five or six lots a week. In July, Owens-Dinmore announced the closure of its downtown office and the discontinuance of its brokerage business during the summer so that the "officials … could devote all of their time to Windsor Square."
The July 20 Phoenix Evening Gazette showed photographs of the first five houses being built, at what are now 234, 314, and 350 East Pasadena; 693 East Colter; and 520 East Orange. It also announced property which had been purchased by Louis Page of Page's Ginger Ale, one of the "foremost business men of Phoenix." A home at 248 East Orange, originally announced to be built for I. D. Owens, was later featured as a model home in October, with many advertisements in The Gazette and The Republican. In November it was offered for sale.
In August, The Phoenix Evening Gazette reported the completion of "one of the state's finest boulevard systems" with the use of "Penetration Macadam" to pave the streets of Windsor Square. Photos accompanied a detailed description of the process. In November, the purchase of 350 East Pasadena by cowboy artist Jack Van Ryder was announced. He and his wife were reported to be the first residents of Windsor Square.
Another model in the subdivision (314 East Pasadena) opened in December 1929, and the advertisement for it was the last to appear for Windsor Square for almost a decade.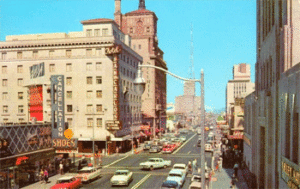 A small story in the Sunday Arizona Republican on March 10, 1930 announced that an auction sale of lots had begun the previous Friday. Prices on lots varied from $3,100 for large lots on Central to $500 for small lots facing 7th Street. Seven years later, a small classified ad announced that at last some of the lots in Windsor Square had been released by the court and were for sale for $300 – $750. Apparently, Owens and Dinmore had suffered financial setbacks, along with the rest of the country, as the 1920s came to a close. A brief story a year and a half later verified that eight years of litigation had come to an end, and Mrs. Margaret Barringer held clear title to 181 undeveloped lots. The Jan. 29,1939 Republican reported that development of the tract would resume and that 12 "pretentious" homes had been built there prior to the depression.
One of the first homes to be built, as lots became available in the late '30s, was the Christy residence (250 E. Medlock), an adobe brick territorial style house. Early photographs show two homes north of it, on what is now the south side of Orange Drive, as well as the home at 248 E. Orange, which was one of the models advertised in 1929. Another noteworthy home built during this period was the Lutfy residence, at what is now 5050 N. 2nd Street.
Ads for lots began to appear with regularity during early 1939, and then news stories began to appear describing the rapid development of the tract, as well as specific homes being built. Agents for the development were Frank Mosshamer and Peter Block. At this time, a number of homes on Orange were designed and constructed by the contracting firm of Wilkinson and Conger. In February 1940, a classified ad appeared for a home on Colter Street, built by William Rasmussen. Rasmussen went on to build a considerable number of homes on Colter, as well as in the adjacent subdivision to the north, Lamson Part 1.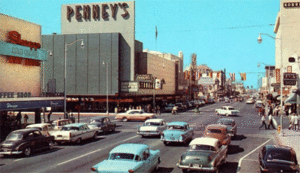 Throughout 1940, classified ads and feature stories about homes in Windsor Square appeared frequently in the Arizona Republic, along with numerous ads for FHA housing. The number of ads and articles declined noticeably in 1941, and by 1942, new construction in Windsor Square came to a standstill because of World War II. At the close of the war, veterans were the target of real estate advertising, as institutions and builders competed for the returning GIs' business. At last, the infill of Windsor Square was completed.
Windsor Square is a neighborhood whose development was interrupted by the forces of history. The subdivision was conceived during a burst of building activity in Phoenix in the late 1920s, only to be brought to a halt by the Crash of 1929 and the subsequent depression into which the country plunged. As FHA financing became available to help bring back the nation's economy, Windsor Square emerged from a long legal battle to begin a new round of building. Once again, history intervened, and World War II stopped all building in Phoenix. Windsor Square languished until returning GIs created another building boom in Phoenix, and Windsor Square at last became a completed subdivision.
While the magnificence envisioned by the original developers never truly came to be, there has always been a kernel of their dream alive in residents of Windsor Square. Those who seek historic designation for Windsor Square hope to see it flourish in the manner first intended in the 1920s.